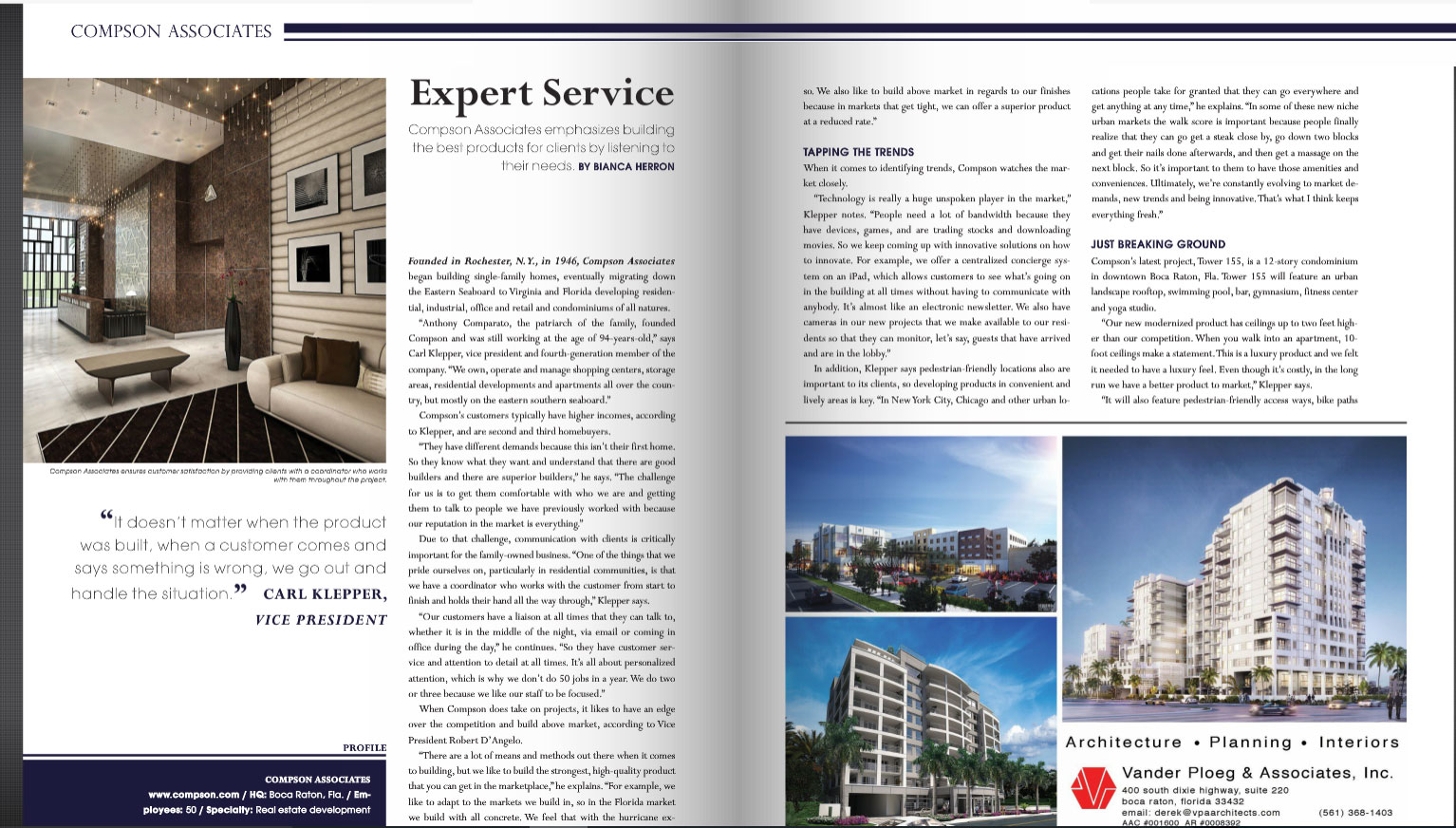 Compson Associates emphasizes building the best products for clients by listening to their needs.
BY BIANCA HERRON

Founded in Rochester, N. Y., in 1946, Compson Associates began building single-family homes, eventually migrating down the Eastern Seaboard to Virginia and Florida developing residential, industrial, office and retail and condominiums of all natures. "Anthony Comparato, the patriarch of the family, founded Compson and was still working at the age of 94-years-old," says Carl Klepper, vice president and fourth-generation member of the company. "We own, operate and manage shopping centers, storage areas, residential developments and apartments all over the country, but mostly on the eastern southern seaboard."

Compson's customers typically have higher incomes, according to Klepper, and are second and third home buyer's. "They have different demands because this isn't their first home. So they know what they want and understand that there are good builders and there are superior builders," he says. "The challenge for us is to get them comfortable with who we are and getting them to talk to people we have previously worked with because our reputation in the market is everything."

Due to that challenge, communication with clients is critically important for the family-owned business. "One of the things that we pride ourselves on, particularly in residential communities, is that we have a coordinator who works with the customer from start to finish and holds their hand all the way through," Klepper says. "Our customers have a liaison at all times that they can talk to, whether it is in the middle of the night, via email or coming into the office during the day," he continues. "So they have customer service and attention to detail at all times. It's all about personalized attention, which is why we don't do 50 jobs in a year. We do two or three because we like our staff to be focused."

When Compson does take on projects, it likes to have an edge over the competition and build above market, according to Vice President Robert D'Angelo. "There are a lot of means and methods out there when it comes to building, but we like to build the strongest, high-quality product that you can get in the marketplace," he explains. "For example, we like to adapt to the markets we build in, so in the Florida market we build with all concrete. We feel that with the hurricane exposure that if you can build to the highest standard, you must do so. We also like to build above market in regards to our finishes because in markets that get tight, we can offer a superior product at a reduced rate."

TAPPING THE TRENDS

When it comes to identifying trends, Compson watches the market closely. "Technology is really a huge unspoken player in the market," Klepper notes. "People need a lot of bandwidth because they have devices, games, and are trading stocks and downloading movies. So we keep coming up with innovative solutions on how to innovate. For example, we offer a centralized concierge system on an iPad, which allows customer's to see what's going on in the building at all times without having to communicate with anybody. It's almost like an electronic newsletter. We also have cameras in our new projects that we make available to our residents so that they can monitor, let's say, guests that have arrived and are in the lobby."

In addition, Klepper says pedestrian-friendly locations also are important to its clients, so developing products in convenient and lively areas is key. "In New York City, Chicago and other urban locations, people take for granted that they can go everywhere and get anything at any time," he explains. "In some of these new niche urban markets the walk score is important because people finally realize that they can go get a steak close by, go down two blocks and get their nails done afterwards, and then get a massage on the next block. So it's important to them to have those amenities and conveniences. Ultimately, we're constantly evolving to market demands, new trends and being innovative. That's what I think keeps everything fresh."

JUST BREAKING GROUND

Compson's latest project, Tower 155, is a 12-story condominium in downtown Boca Raton, Fla. Tower 155 will feature an urban landscape rooftop, swimming pool, bar, gymnasium, fitness center and yoga studio. "Our new modernized product has ceilings up to two feet higher than our competition. When you walk into an apartment, 10- foot ceilings make a statement. This is a luxury product and we felt it needed to have a luxury feel. Even though it's costly, in the long run we deliver a better product to market," Klepper says. "It will also feature pedestrian-friendly access ways and bike paths.